History of Kingdom Community Services - St Johnsbury
Kingdom Community Services wants to ackowledge and thank you - - All those who have volunteered their time, talents, and resources over the years to help further our vision - - A community where everyone has sufficent tasty and nutritious food and a welcoming place to gather and dine together.
Kingdom Community Services was incorporated as a 501(c)3 non-profit organization on January 17, 2017. Prior to 2017, KCS was an organization of faith communities under the umbrella of the North Congregational Church.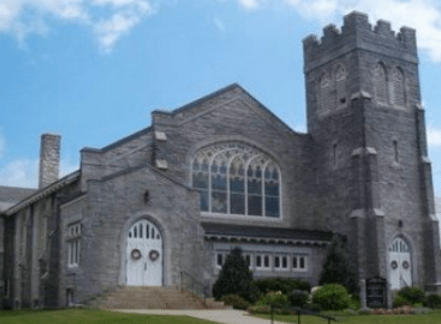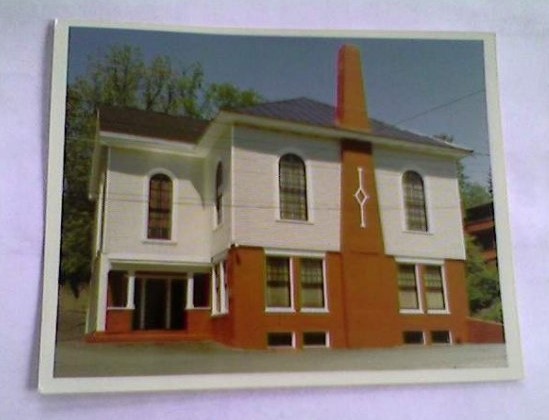 Kingdom Community Services (KCS) grew out of a Community Lunch program at Grace United Methodist Church, started as a project for a group of young people in the 1990s. When the young people left the area, church members and volunteers from the community took over. Gloria Bakker was the coordinator for many years. Gloria and her team added a salad bar that was very popular. Some weeks they were serving over 100 meals in the large dining room of the church basement. Food was donated by many in the community, but the culinary program at St. Johnsbury Academy was a crucial source along with bread and produce donated by White Market. The meals were (and still are) free with a donation jar for those who want to contribute. After Gloria retired from the lunch, others in the church and community have stepped up to keep the meal going. Currently, the CoOrdinator is Lisa Wood. The meals had continued every week until Covid hit in 2020. The coordinator and volunteers decided to continue serving their clients with take-out meals, and those were provided throughout the pandemic. The dining room re-opened in April 2022.
A few years after the Grace Chuch began the community lunch, several other faith communities decided to come together to form Kingdom Community Services. In the 1990s, a Friday lunch was started at South Congregational Church, and continued until October 2017 when the South Church combined with North Church to form United Community Church (UCC) and the South Church building was donated to the St Johnsbury Academy. The Academy's culinary program continued the Meal Site until 2020 when Covid closed down everything. It has not re-opened yet.
Later in the 1990s a Wednesday lunch began at the North Congregational Church (now UCC) under the leadership of then Pastor Jay Sprout as an outreach mission project. Bob Cousins organized the project, and Kay Clifford served as kitchen manager. Both Bob and Kay served faithfully for over 20 years.
Louise Young assumed the role of chef and site coordinator, serving between 80 to 100 meals every Wednesday, and a Thanksgiving meal for nearly 200 - until Covid put a halt to everything. Much of our food is donated by the St Johnsbury Academy, Price Chopper and supplemented by the KCS Food Shelf.
The UCC Meal Site served it's final pre-Covid meal on March 26th, 2020 with hopes to reopen within the year. However, that did not happen as the building suffered frozen pipes and flooding during the winter of 2021. Finally, after a 2 1/2 year shut-down, the UCC Wednesday Meal Site is now serving once again! Our Grand Opening was on September 7th, 2022 - Guests will notice many changes when they enter the UCC dining room. The kitchen and dining hall floors have been beautifully restored by Mayo's of St Johnsbury; the kitchen walls, electric, and water have all been renovated; a new stove and grill have been installed; and the dining hall and pantry room have been painted. The overall transformation is glorious!
In December 2009, a Saturday Community Meal was added at the Universalist Unitarian Congregation of St Johnsbury. Jean Metivier and Daisy McCoy worked together to collect food donations, gather volunteers, do publicity and prepare the meal. The dining hall at Lyndon State College (now NVU - Lyndon) provided the majority of the food for many years. In 2019, a committee from the UUC embarked on a major fund raising and renovation project. The kitchen was gutted, floor covering replaced, electrical system upgraded, a commercial dishwasher installed along with a new 3 bay sink and plumbing upgrades. This has made preparing meals and cleaning up afterwards much easier. During the summer local individuals and farms donate fresh produce allowing for a variety of fresh fruits and vegetables on the menu. The KCS Food Shelf provides ingredients that supplement the food donations. During the Covid Pandemic, the meal changed to take-out only and clients were served throughout the pandemic. The Meal Site resumed in-person dining in July 2022.
On November 4, 2022 a new Friday "Sandwich Stop" lunch has been started by United Community Church -UCC. They provide a sandwich, a drink, and a cookie. This will do a few important things: 1) Give people another meal option on Fridays 2) Fill a gap left by the St Johnsbury Academy's closed meal site (if only temporarily) 3) Use more of the food we're receiving from the Academy. We are full and overflowing, which is wonderful; so we can turn some of the chicken into salad, and some of the beef into sloppy joes, etc. 4) Provide yet another safe, warm place where folks can gather and share some community. 5) Utilize the newly-renovated space!
Special Holiday Meals: The United Community Church -UCC hosts a community Thanksgiving meal and, in cooperation with Beth El Synagogue, a community Christmas meal. These meals have been very popular drawing a variety of people, some come because they are hungry, others because they are lonely, and many because they want to be part of a community on these special holidays.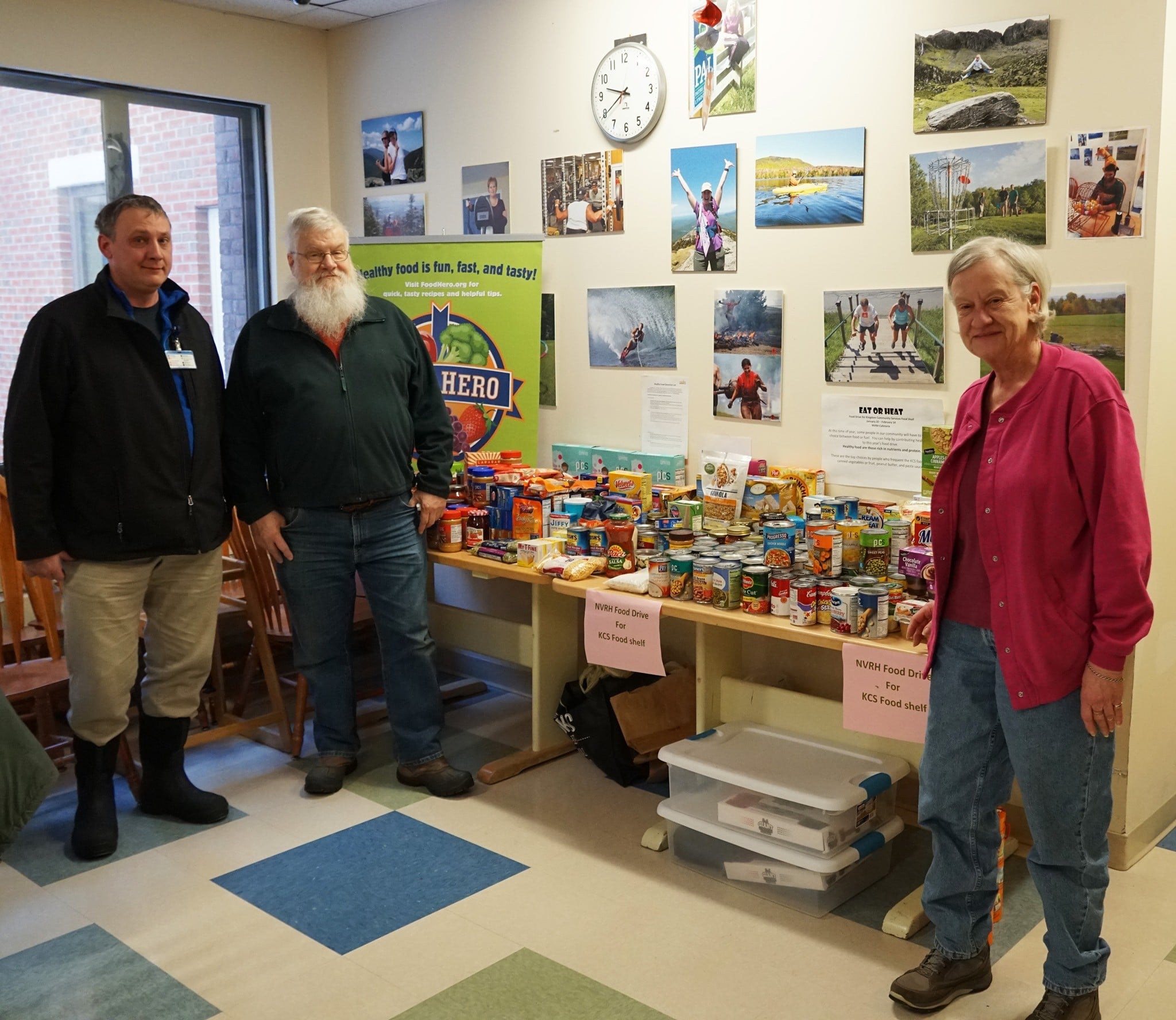 Food Shelf & Thrift Store
The Kingdom Community Services Food Shelf and Thirift Store were opened because of a need for emergency food and clothing for people beyond the free community lunches being provided. Under the guidance of Rev Jay Sprout, the North Congregational Church generously donated the use of a duplex building, with KCS paying only utilities and partial maintenance. Ted and Fran Merchant managed the Food Shelf for many years before poor health forced Ted to retire. Ellie Dole and her volunteers have continued to serve all those who come to the door in need. The Thrift Store was closed in October 2019, when the long-time CoOrdinator, Sharon Heidemann retired. The Food Shelf has expanded to make good use of the whole building. We have installed air purifiers to ensure the air quality is safe. During 2022 and 2023, the building housing the food shelf is undergoing major renovations but is continuing to serve those in need of groceries. The building has been inspected and it is sound. New windows, doors, flooring, basement steps, and kitchen steps have been installed. The foundation and basement support posts have been shored up and the basement insulated. Repairs have been done in many areas..
The Keep Us Warm program was very active for many years providing coats and winter boots to those who needed them, especially children at the St Johnsbury School. They also provided donated blankets and sheets. In 2022, Ellie Dole at the Food Shelf has re-started this program and is accepting clean used winter coats and blankets, and distributing them to those in need.
KCS took over the Co-op Christmas program in the late 1990s when it was discontinued by NECKA's Outreach. It provides Christmas gifts ($25 or less) to elderly, disabled and teenage individuals who are not covered by other programs and would not receive a Christmas gift otherwise. Ramona Letourneau led the program in the 1990's when she was with NECKA, and with KCS she has been the program CoOrdinator since 2000. In 2022, Julie Gist has taken over as lead CoOrdinator with Ramona as assistant. Julie and her daughters helped with the program last year and loved it so decided to commit to the program.